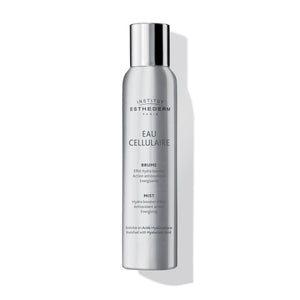 DETAILS
A facial mist formulated to replicate the water found in the skin to replenish and revitalize skin. Enriched in Hyaluronic Acid.

BENEFITS
Balanced with mineral salts and trace elements, Cellular Water provides the skin with the moisture needed, the skin is more beautiful as energized.

HOW-TO
Compliment every beauty ritual by spraying onto the face and body and then gently massaging until absorption is complete. Use under face cream and throughout the day as needed.
INGREDIENTS
AQUA/WATER/EAU*,PROPANEDIOL,SODIUM CITRATE,SODIUM CHLORIDE,HYDROLYZED HYALURONIC ACID,CITRIC ACID,AMINOETHANESULFINIC ACID,CARNOSINE,POTASSIUM CHLORIDE,SODIUM BICARBONATE,DISODIUM PHOSPHATE,MAGNESIUM SULFATE,POTASSIUM PHOSPHATE,CALCIUM CHLORIDE. [ES1019]
* L'EAU CELLULAIRE CONTIENT / CELLULAR WATER CONTAINS : SELS MINÉRAUX / ,DIPEPTIDE BIOMIMÉTIQUE / BIOMIMETIC DIPEPTIDE,PROACIDE AMINÉ / PROAMINOACID